Please keep in touch and keep me informed as to how your Ragdoll kitten is developing and getting used to their new happy furever homes. I have received many photographs from clients, of which I am grateful, showing kittens they have acquired from Osoragdolls that have grown into especially beautiful cats.
I would love to hear about how these babies' personalities have developed as well…please leave us a review.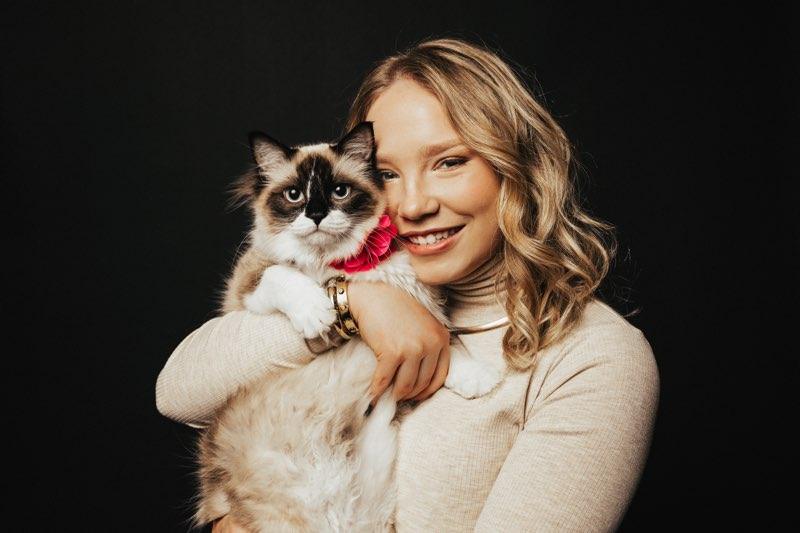 Osoragdolls
Average rating:
13 reviews
Jun 4, 2023
So Pleased with Our Choice
My whole experience of getting a kitten from Jamie was positive. I started corresponding with her during the summer, and our kitten wouldn't be ready to come home with us until January, but during all that time in between, Jamie checked in regularly. I got to see photos of him with his siblings shortly after they were born (they looked like water balloons), then steadily growing baby shots. From the minute Jamie handed little Victor over, he was excited to be with us. I realize that every cat has their own personality (and Victor certainly does), but he also matches the descriptions I've read about the ragdoll breed: he's friendly to everyone, including our other two cats, and curious and mellow but playful. At his first visit to our vet, the doctor was really impressed with him and especially remarked that he was well socialized. She told me she'd been a little worried when I first said I was getting a cat from a breeder, because she's seen a lot of supposedly purebred kittens delivered in very bad shape. Not Victor, though! He's already more than twice the size he was when he first came home with us, and I'm very curious to see him grow the rest of the way. He's a fantastic addition to our family!
Dear Ana,Thank you kindly for your beautiful review regarding Victor Charlie. I appreciate and deeply value your positive review. I am so happy that Victor Charlie has fit into your family with such ease. It gives me great joy seeing him together with your other cats. I also love your continued updates, and pictures. Please keep me updated as time allows.
Jun 4, 2023
Oso Ragdolls Rocks!!
I have purchased several purebred cats directly from breeders and based on my experience, Jamie is a delight to deal with--knowledgeable, friendly and understanding. She cares deeply for the well-being of the kittens coming from her "cattery" and will make the transition from her home to yours as seamless as possible. I purchased "Mopsy" for my 95 year-old mother in December 2021. Mopsy is the first ragdoll that my family has owned, and I firmly believe that people who don't like cats have never owned a ragdoll; ragdolls are the best! Mopsy is a blue bi-color and is the "purrfect" companion. She is social and affectionate (for a cat) and everyone in the household (including the caregivers) LOVES MOPSY!! Now that Mopsy is 21 months old, she is almost full grown, weighing a touch over ten pounds and has classic bi-color markings with striking cerulean blue eyes. Additionally, her mane is coming in, making her look like the regal queen that she is. Would unreservedly recommend Oso Ragdolls to anyone who is looking to purchase a ragdoll!!
Dear Julia,Thank you so much for this stellar review. I am so happy that Mopsy is doing fantastic with you and your dear Mother. I appreciate and value your feedback very much. My family and I enjoy receiving Mopsy's updated pictures very much. What a delightful beauty! Please continue the updates, as time allows. Thank you kindly.
Mar 29, 2023
Love my Sierra Blue
So grateful for Osaraggdolls! All along the way after Sierra's birth, Jaime kept me up to date with how he was doing. Jaime is so knowledgeable and loves her cats and care deeply for them as well as me as a client! She helped answer so many questions I had, suggested great items to help me with him, and continues even now to answer questions. Jaime was so very loving and caring with him, and I am so grateful for the excellent start Sierra Blue had with her. My mother passed away a day before I went to pick him up, and he has been such an amazing joy since I brought him home, during this time of grief! He is now 5 months and almost 8 pounds! He is so handsome, and the softest kitty I have ever petted! He is a real character, and loves to play and sit high on his cat tree, and follows me wherever I go. I love my boy so much ! Thank you so much again OSA Ragdolls for everything! ❤️💙🏔 Linda
Linda, thank you so much for your kind words and positive feedback regarding Mr. Sierra Blue! We are so grateful for you, our dear customer. We are also very appreciative of your updates and continued communication about Sierra Blue. I look forward to hearing more of your beautiful updates about Sierra Blue.
Feb 4, 2023
Jaime is knowledgeable and professional. She knew exactly what I was looking for in a Ragdoll. Nala is a sweetheart.
Diana, truly appreciate your kind words. Thank you for keeping me updated on Ms. Nala. Thank you also for your time, in driving many hours, across state lines to pick her up. Grateful for your support and giving Nala a loving home, with lots of TLC.
Feb 4, 2023
Bea
In the moments they followed before, Jamie had been more than communicative about the process and details about what was going to happen, educating us before and along the way. Just a few minutes after making the decision and putting down the deposit, Bea was born. It was almost as if I knew she was supposed to be my girl. Through the first 12 weeks of Jamie taking care of Bea and raising her, I constantly received updates and communication on how Bea was doing. There was never a moment of doubt. When it was time to pick Bea up, Jamie sat there and connected with us and created a relationship with us - talking about the Ragdoll breed and what they need as well as creating a trusted relationship. She cares deeply about these cats and kittens just as much as she cares about the people they are going home with. Bea has been such a bright light in our lives, never failing to make us laugh with her kitten stumbles, zoomies, and playtime pounces. She is the sweetest girl with just the biggest personality. Thank you Jamie!
Lily, thank you so much for this beautiful review. I am so grateful for your support and kind words. Please continue to keep me updated on Bea, as time allows.