Osoragdolls is on Summer break. Have a wonderful Summer! 
We are accepting reserve deposits for Wintertime kittens. Early registration is encouraged. Returning customers will receive loyaly discount, mention CODEOSO. Please message for information.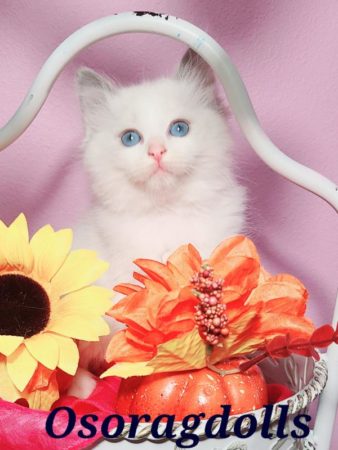 TICA Registered Ragdoll kittens for sale!  We are assessing colors/patterns. Reserve your new kitten today!
Sire & Dam: Genetically Tested via UC Davis for HCM, PKD1 & More
Accepting reservations for TICA Registered, Wintertime 2022 Ragdoll Kittens! We kindly request a deposit to reserve. Please give us a call to discuss your kitten needs.
Our kittens range in price from $1,800.00 to $2,800.00, U.S. Dollars. A deposit and mutually signed contract are required to hold your kitten(s). The deposit is nonrefundable for any and all reasons, including, change of heart, change of mind etc.
Additional Fees:
In-Cabin AirTransport via Hand Courier- $500-$550
(www.PetJetPals.com)