UPDATE: September 2023: Beautiful TICA and CFA Registered Ragdoll kittens available! We may be reached directly by calling 425.923.5337.
We are presently accepting reservation deposits for our Fall Ragdoll kittens. If you have emailed me without a reply within 24 hours, it may have been lost/removed from my Spam folder. If that should be the case, please contact me via telephone,
425.923.5337
. Thank you. I look forward to hearing from you.
(click any photo to enlarge!)
"Ms. Light Pink, Traditional Blue Point, female
Ms. Hot Pink Collar, Traditional Seal Point, female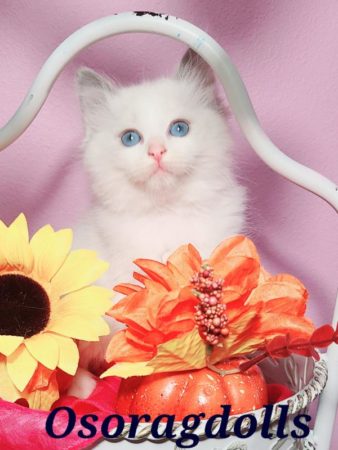 TICA Registered Ragdoll kittens for sale!  We are assessing colors/patterns. Reserve your new kitten today!
Sire & Dam: Genetically Tested via UC Davis for HCM, PKD1 & More
Accepting reservations for TICA Registered, Fall 2022 Ragdoll Kittens! We kindly request a deposit to reserve. Please give us a call to discuss your kitten needs.
Our kittens range in price from $1,800.00 – $2,800.00, U.S. Dollars. A deposit and mutually signed contract are required to hold your kitten(s). The deposit is nonrefundable for any and all reasons, including, change of heart, change of mind etc.
Additional Fees:
In-Cabin AirTransport via Hand Courier- $500-$550
(www.PetJetPals.com)